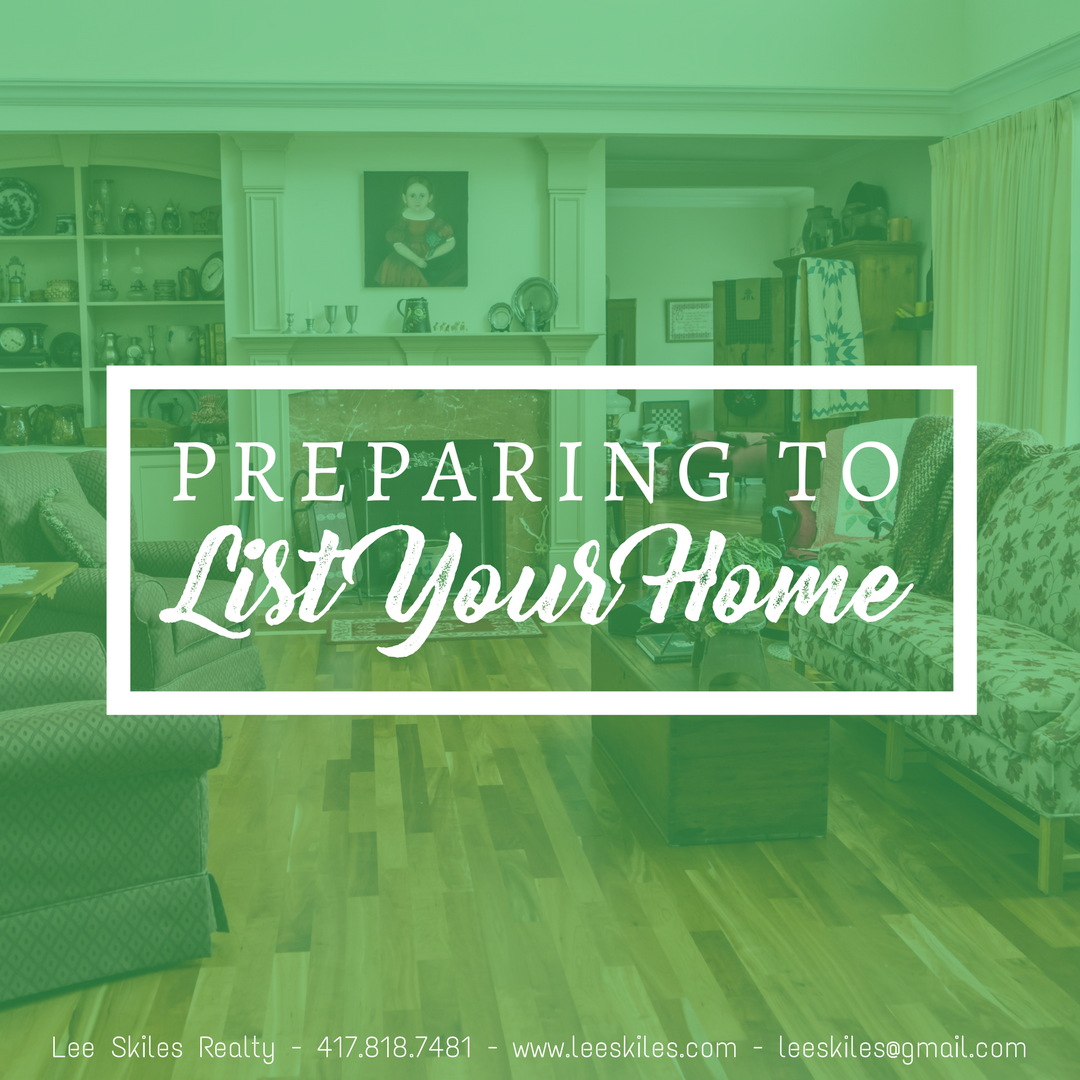 You've thought about it, you've prayed about it, and you've gone through it over and over in your head… but you finally decide to list your home.
First off, CONGRATULATIONS! This is a HUGE decision, and I will do everything in my power to help you sell your home at the highest price with the least amount of hassle.
But, before you decide to list your home, you may want to do an audit of the current state of your house.
Here are areas you'll want to look at to make your house as appealing to potential buyers as possible!
1) Does your lawn and landscaping give a potential buyer a great impression?
— Your landscaping sets the tone of the preview of your home. If a potential buyer arrives at your home and sees a jacked up front lawn, you could be kissing any potential offers goodbye! Keep the lawn trimmed. Plant flowers and bushes to give the landscaping a mature appearance. Make sure all weeds are removed and add mulch to your grounds. All of these items can set a positive tone to your potential buyer's visit!
2) What does your front door say to the buyer?
— Does your front door say, "hello! You are welcomed in our home", or does it say, "buyer BEWARE"? The front door, as you know, is the entry way into your home. If it needs to be painted, sanded down, or repaired, make sure you do so!
3) Is the interior of your home appealing?
— As we talked about in our article about potential flaws that could turn a buyer off, potential buyers are looking for as move-in-ready of a home as possible. They do not want to tear down wallpaper or paint the walls. Make sure your walls are painted a neutral color like a light grey or beige color. They do not want to update the bathroom, so make sure you upgrade wherever you can. If they aren't "feeling the vibe" of your home because of its outdated presentation, they more than likely will not give you an offer.
4) How much natural light can you let in?
— Let the sun shine in! Dark homes do not appeal to buyers so, when potential buyers are visiting, open up all of your curtains and draperies. This adds more cheer into your home!
5) Are your windows and screens in good shape?
— Nothing kills the perceived value of a home like screens that are torn up and windows that are either cracked or unclean. If your screens and windows are in bad shape, get them repaired or replaced.
6) Are your appliances clean and operating properly?
— Dirt and grime is also a turn off to prospective buyers. Make sure your appliances are clean and in working order as these types of issues will lessen the perceived value of your home.
7) Are your faucets in proper working order?
— Dripping water is not only annoying, but they can discolor your sink. A leaky faucet could also suggest faulty plumbing. This is the last thing you will want to have a buyer experience. Get those fixed!
8) Are there little items that can be fixed?
— Again, the name of the game is "perceived value". Loose knobs, sticking doors, warped cabinets and drawers, and other minor flaws take away your home's value to the buyer. These are minor issues that could cost you larger dollars and cents in the possible offer.
9) Is there clutter anywhere in your home?
— If your attic is full, your basement is littered with boxes, or your closets are filled up, you'll want to get rid of the clutter. You want to feature how much storage space is in your home and, when those areas are full, prospective buyers cannot fully visualize how much storage area is available.
10) Is your house safe for buyers to walk around?
— Safety should be of the utmost priority for you. With that, make sure there is no clutter that anyone could trip over. Be sure that your floors are dry. Do whatever you can to make sure our house is safe for viewing.
11) Are your closets neat, tidy, and devoid of clutter?
— Pack excess linens and clothing to make the closets appear larger. Neat and well-ordered closets show how much space the buyer can expect in those closets.
12) What impression does your bathroom present?
— Bathrooms help sell homes. Period. If your bathroom is a mess and not well put together, you could lose a sale. Check and repair grout in the bathtubes and showers. Make this room sparkle.
13) Are your bedrooms well organized and up to date?
— Arrange the bedrooms neatly. Remove any excess furniture. Use attractive bedspreads, neutral wall colors, and fresh-looking window coverings.
14) Are there any items that you would like to take with you?
— Make sure you communicate with me the items that you are planning to leave behind. If there are chandeliers, shelving, garden swings, etc. that you want to take with you, make sure you tell me so that I can put that into the listing.
15) Do you have other homes around you for sale?
— I can take a look at the homes surrounding yours to make sure we price your home according to what the market currently looks like. Nothing kills perceived value on a home more than over-pricing your home. When someone can find a larger house for a lower price, you don't have a prayer in selling your home.
16) Are there areas in your home that you're considering updating, but you're not sure it will actually help the value of your home?
— There are actions you can take to increase the value of your home, but not all updates actually do increase the value. Just because you spend money on an update does not mean that the value of your home went up. Talk to me, and I will make sure I tell you what you can do to increase the value of your home.
17) Does your house look well-lit at night?
— Just as you need to make sure your house is well lit during the day time, you need to make sure it is well lit at night. Check your lightbulbs. Move lamps around. Buy more lighting as needed. Again, you want to make the visit as positive as possible.
18) Are there issues you are aware of that need to be addressed?
— Inspections can uncover a bevy of different problems in your home. If you know of an issue, the best solution is to tackle it before you even put your home on the market. The cleaner the inspection is, the better the home will seem to the buyer.
19) Have you started to look for your new home?
— Do you know what you're looking for in a new home? Visiting homes around your target area will not only help you to see what it's like to preview homes, but this will give you confidence in listing your home. If your home goes under contract quickly, you'll already have options for your new home.
20) Have you considered what will need to happen in order for you to move?
— If your home is listed one day and under contract the next (which happens VERY frequently in our market), you may have to move in under 30-45 days. Are you prepared for that? Look ahead at what it will take for you to move out of your home and prepare for it now.

Lee Skiles is your real estate resource for real estate in Springfield, MO, and the surrounding areas. Having lived in Springfield, MO for most of his life, Lee's knowledge of the Greater Southwest Missouri area is second to none. You can contact him at 417-818-7481 or leeskiles@gmail.com.