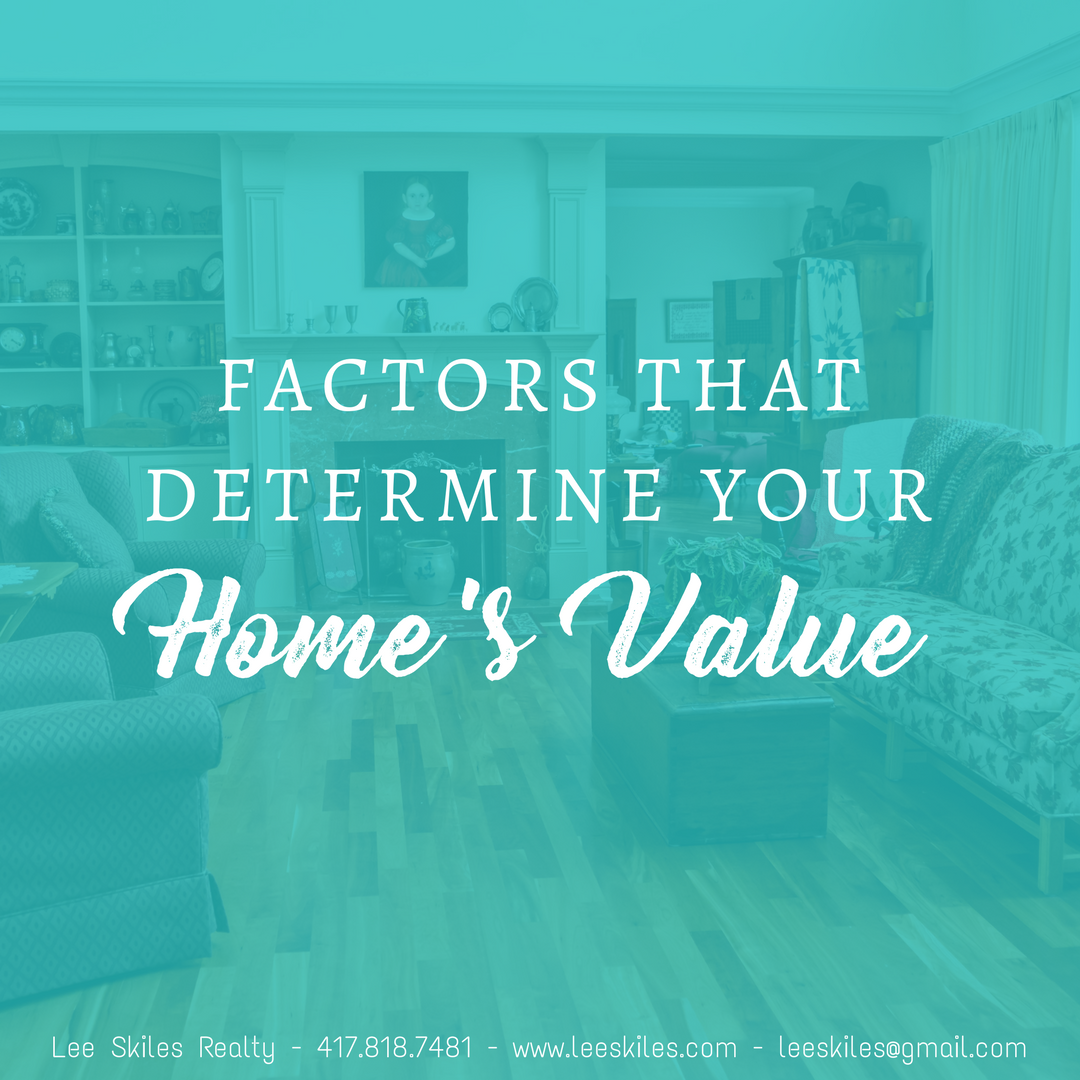 One of the questions that I hear quite often from potential clients is "How do I figure out the value of my home?"
There are several factors that can affect the value of your home. Here are some of the largest ones.


1) NEIGHBORHOOD
This is one of the largest influencers on a home value. Schools are a huge factor. We are lucky that we have several Missouri A+ ranked schools in our area.
The houses that surround your area can directly affect your home's value as well.
Crime rates, access to major roads, and vicinity to major shopping areas can all factor in as well.
2) THE REAL ESTATE MARKET
Supply and demand can cause the value of your home to increase and decrease.
In a seller's market, there are more buyers in the market than there are houses for sale.
This situation can increase your home's value because, if your home is priced right, you may end up receiving several offers from potential buyers. This creates a bidding feeding frenzy.
In a buyer's market, there are more houses available than there are buyers. In this case, you may end up getting less money than you hoped because of having to stay competitive in price with the houses that are currently for sale in the market. This means you may have to list your house for lower than you had hoped.
3) SIZE MATTERS
This is where you must be realistic about the price of your home.
If there are homes around you that have more square footage than yours, have an extra bedroom and/or bathroom, etc, you may have to settle for less than what you believe your home is worth. Price per square foot is something that some buyers rely on to make sure they are getting a good deal.
This is one of those situations where you must separate yourself from the emotional tie you have to your home. The home must be priced correctly for what it has to offer compared to the other houses on the market.
4) HISTORICAL SALES PRICE
What has the home sold for in the past?
Let's say a home was listed for $120,000 and was on the market for 90 days without being bought. The sellers brought it down to $110,000, and it was on the market for 60 more days. The buyers brought it down to $105,000, and someone bought it for $100,000.
A year or two later, the buyers who purchased the property now want to sell the home, and they want to list it for $120,000, but they haven't done anything to upgrade the home.
Smart buyers and real estate agents will see right through that. They'll see that the sellers bought the property for $105,000 and are just trying to flip the home. Unfortunately, for the sellers, buyers have access to the listing from the time when the sellers bought it, so they can access all the pricing from the year prior.
In this day and age, you cannot pull the wool over anyone's eyes. Public information is available at the click of the mouse, so you must take the historical sales price into consideration.
5) AGE AND CONDITION
Just because a house may be an older one, that doesn't necessarily mean that it can't be sold at a higher value. But, unless the house has been kept up with or remodeled, the perceived value may be a bit lower.
A well-maintained home will put the buyer at ease, even if the house is a bit advanced in age. Most times, the better maintained a house is, the less maintenance will be required. Buyers like that.


6) APPEAL
The condition of the interior and exterior of the home is another one of the huge factors that can influence its value.
The less work a buyer will need to do, the more apt he is to submit an offer.
They are more likely to submit an offer on a move-in ready home than they are than a house that will require work.
Get rid of the popcorn ceilings. Tear down the wallpaper and replace it with neutral colors like light grey or beige.
Make your home as appealing to the buyer as possible.
7) UPDATES AND UPGRADES
Not all upgrades and updates will increase your home's value, so be smart and strategic about what you are updating.
According to data from Consumer Report, these upgrades usually add the most value.
– Kitchen (3 to 7%)
– Floor Plan (4 to 6%)
– Convenience in Use (3 to 5%)
– Outdoor Upgrades (3 to 5%)
– Technology (3 to 5%)
– Paint (1 to 2%)

On this point, you may want to consult with a real estate agent before you decide to make any larger upgrades. Some of these upgrades and the value that they add may have to do with regional trends and what each area considers an upgrade.
8) LOCAL CONVENIENCES
Is your home near a main street or major highway in your town? Is your house located near one of the prominent shopping centers in the area? All of these are factors that could peak interest in your home and give it a higher perceived value to potential buyers.
IN CONCLUSION:
As you can see, it's always hard to pinpoint EXACTLY what a home is worth.
In the end, though, the value of a home is ALWAYS determined by the price that a potential buyer is willing to pay for it.